Prevent risky business and secure compliance with Cypago Risk Management
Managing cyber risk involves identifying, assessing, mitigating, and monitoring risks – a highly manual, demanding, and often broken task. That said, when done right, risk management improves your business security and helps organizations comply with nearly all frameworks, standards, and regulations. It also serves as a driver of true business and financial growth. With Cypago Risk Management ™, the days of ineffective spreadsheets, notebooks, legacy software, ticketing systems – and far too much human error – are over. Based on deep cybersecurity knowledge, expertise, and technology, Cypago Risk Management takes the onus of risk management off growth-minded organizations' shoulders.
Identify
Cypago's intelligent gap analysis engine automatically identifies security gaps across all your SaaS tools and cloud environments. In addition, Cypago lets you define your own risks or choose risks to drill down on from our comprehensive risk catalog.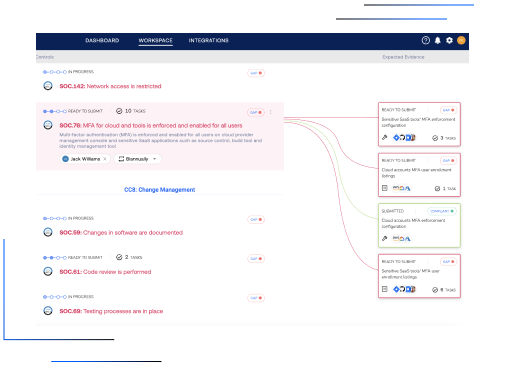 Assess
With Cypago, managing your risk is easier than ever. Cypago automatically provides a risk score for all of your identified risks, and prioritizes high and critical risks, so you always know what to focus your resources on first.
Mitigate
Once your organization's risks have been identified and understood, devising a risk treatment and mitigation plan is the next smart step. With Cypago, you can easily manage your risks by assigning a risk owner, selecting the precise mitigation actions or controls needed to reduce your risks, and providing timeframes and due dates for each action, to keep your risk management activities on track.
Monitor
Risk management is not a one-off. To operate effectively, the Cypago platform continuously monitors your data and reassesses risks within your dynamic and ever-changing business environment. In doing so, Cypago grants you deep visibility into your current risks and provides insights into your organization's risk treatment program status and progress.
Prove Compliance
The Cypago platform empowers teams to quickly and securely export data to authorized people only so that you can provide your auditors and customers with firm proof of your effective risk management.