HIPAA
Full HIPAA requirement automation & management for improved security & business growth
One platform to ensure complete sensitive patient data protection
Privacy Documentation and Policy Templates
Cypago presents an out-of-the-box solution to writing up, sharing, tracking, and reviewing policies or other documents needed for HIPAA compliance. Cypago's HIPAA policy and document templates span fields important to the 5 HIPAA rules – information security, privacy, risk management, business continuity and disaster recovery, third party management, incident response, and many more – for your patients' protection.
Automated Risk Assessment
Risk assessment is one of the core activities in your HIPAA compliance efforts.
With Cypago's Risk Management (TM) feature, your organization can benefit from a complete risk identification and assessment solution that provides unmatched visibility into your IT/security risks, so you can easily identify, manage, and even mitigate your PHI-related risks.
Out-of-the-box Mapping
Are you already SOC 2 or ISO compliant? Discover how Cypago's out-of-the-box mapping of HIPAA controls to and from other frameworks can further enhance your compliance success. The combination of Cypago's collect-once-comply-many principle, Automatic Scoping ™, and security and privacy control library ensure you automatically know what you have to do to be HIPAA compliant and kick-off fast.
Automated Evidence Collection
Now, you can build your organization's HIPAA Evidence Directory and share the data and documents you want, when you want, with internal or external auditors while ensuring PHI never falls into the wrong hands. Cypago's Automatic Evidence Collection provides you with the tools you need to control access to your organization's massive amounts of PHI stored in the cloud.
Secure Your Organization's PHI Security Monitoring
With Cypago, you are no longer point-in-time HIPAA compliant. Cypago's platform consistently provides your organization with near real-time visibility into your HIPAA compliance status and risks. Using Cypago's Contextual Gap-Analysis (TM) and Monitoring Engines, you can automatically track your progress, identify trends, take action, and maintain HIPAA compliance.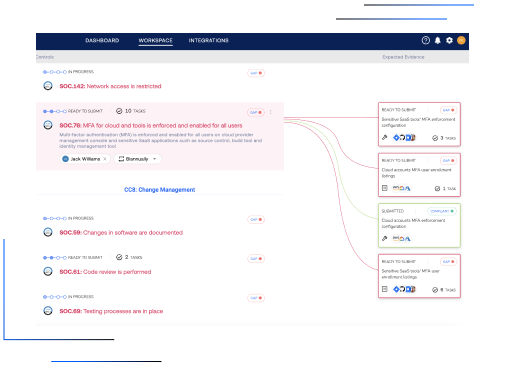 Coach Compliance
Cypago helps you educate and train your employees to understand the severity of PHI risks, how to identify them, and what measures to take to ensure HIPAA compliance and promote patient security and trust for the long haul.